Getting around Osaka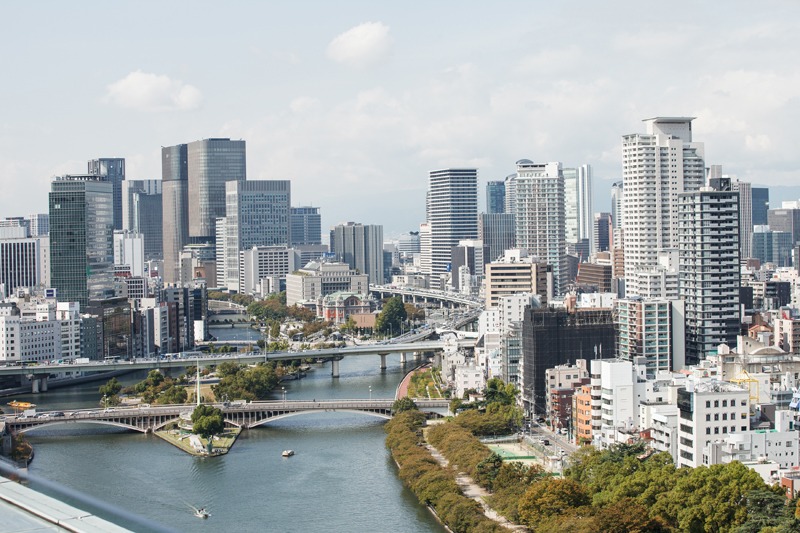 Osaka City is largely divided into two areas: the Umeda area, called "Kita," and the Namba/Tennoji area, known as "Minami." Depending upon your destination, you can travel through the city using the subway, which goes all throughout the city, the JR Osaka Loop Line, which circles the central districts, and other private railways that connect in various parts of the city.Osaka is an "aqua metropolis." You can enjoy a truly Osakan experience by traveling by water on a water bus or a cruise instead of using the roads, trains, or subway. You're sure to see a different side of the city. Sightseeing taxis are also available. Osaka is a city with advanced transit, allowing you to enjoy your visit while travelling conveniently.
CRUISES
Be sure to confirm operating days and status.
FAMILY CARS/ RENTAL CARS
The main road for driving within Osaka City is the Hanshin Expressway. The Loop Line, which surrounds the central districts, provides access in all directions. Traffic is heavy within the city, so use caution when driving. Also, while there are many city parking lots from Umeda to Namba, they are often full on weekends and holidays.
Parking
Rental Cars
TAXIS
See here for information on sightseeing taxis.
OSAKA BIKE RENTALS
Predominantly flat, very well organised, and populated by outrageously considerate locals who are more than used to sharing space with their two-wheeled companions, Osaka is Japan's true bike city. Bicycles are indeed so ubiquitous that it's impossible to spend a day in town without seeing them glide down the sidewalk carrying well-dressed business men, women with babies and surprisingly agile elderly.If seeing the locals traverse their city on two wheels makes you want to hop off the train and on a bike, then it's time for you to join the ranks of Osaka's cyclists. To score your ride, head to an English-speaking bike rental service, such as Cycle Osaka . Not only will they hook you up with a suitable bike, they will also help you with cycle tours so you can explore the city your way. Another option would be HUBchari , where bicycles are shared at various stations throughout the city. Alternatively, Osaka's new public bike rental service offers smaller city bikes for inner city touring. Information on this scheme can be found at http://umegle-chari.minaport.jp (Japanese only). Then... just saddle up, plan your route, and get involved!Over at Grand Front Osaka, the newest landmark building in Osaka's Kita, you can rent a bicycle at Umegle Rental Cycle. You'll be able to return your cycle anytime within the 24 hour period, giving you plenty of time to see the city in two-wheeled fashion. HUBchari and COIDECO are two examples of a new type of "community cycle" bicycle rental service. There are a number of rental "ports" located around the city, and you don't have to return your bicycle to the same port you borrowed it from. Osaka's a great city to explore this way, and it's sure to make you appreciate cycling all the more. Make sure to check Osaka's urban cycling routes before you arrive.
RAILROAD NETWORK IN KANSAI AREA
Here are the information about railroad network around Osaka. Please click at the train's name under the railroad map below where you will get information about each line's main stations, required time and fee.
Route Map
Osaka An overview of all railways running through Osaka, including Osaka Metro.
Osaka Metro
A convenient grid of lines covering the city area.
Osaka Metro NiNE is an Osaka travel website provided by Osaka Metro.
Midosuji Line(380yen)
Tanimachi Line(380yen)
Yotsubashi Line(280yen)
Chuo Line(330yen)
Sennichimae Line(280yen)
Sakaisuji Line(280yen)

Nagahoritsurumi Ryokuchi Line(330yen)

Nanko Port Town Line (New Tram)(280yen)
HANKYU RAILWAYS
Connecting Northern Osaka with Kobe and Kyoto.
Kobe Line (320yen)
Takarazuka Line (280yen)
Minoh Line (160yen)
Kyoto Line (400yen)
Senri Line (230yen)
HANSHIN RAILWAYS
Connecting Osaka with Kobe.
Hanshin Main Line (320yen)
KEIHAN RAILWAYS
Connecting Osaka with Kyoto.
Keihan Main Line (480yen)
KINTETSU RAILWAYS
Connecting Eastern Osaka with Nara, Mie and Nagoya.
Kintetsu Nara Line(570yen)
Kintetsu Osaka Abenobashi Line(640yen)
NANKAI RAILWAYS
Connecting Southern Osaka with Kansai International Airport,Wakayama and Mount Koya (Koyasan)
Nankai Railways Airport Line(1,440yen)
Nankai koya Line(1,390yen)
SENBOKU RAPID RAILWAY
Connecting subway and Nankai Railways with Semboku New Town
Senboku Rapid Line(330yen)
HANKAI LINE / UEMACHI LINE
An electric tram in Southern Osaka, bound for Sumiyoshitaisha and Hamadera Park in Sakai
Hankai Line(210yen)
Uemachi Line(210yen)
OSAKA MONORAIL
Connecting Osaka International Airport in the North with cities in the East.
Osaka Monorail(500yen)
KITA OSAKA KYUKO RAILWAYS
Connecting Osaka Metro Midosuji line with Osaka Monorail.
Kita Osaka Kyuko Line(140yen)
JR WEST (WEST JAPAN RAILWAY COMPANY)
A wide network of lines connecting Kobe, Osaka, Wakayama, Nara and Kyoto cities
Osaka Loop Line(200yen)
Yumesaki Line(160yen)
Kansai Airport Line(460yen)
Kyoto Line(570yen)
Gakkentoshi Line(770yen)
Kobe Line (940yen)
Kobe Line(1,520yen)
Kansai Line(1,170yen)
Takarazuka Line(990yen)
Yamatoji Line(990yen)
Hanwa Line(870yen)
Fukuchiyama Line(860yen)
PORT LINER
Connecting Sannomiya with Kobe Airport
Port Liner(340yen)
Back