Watching Guide : Rugby - NTT docomo Red Hurricanes / Kintetsu Liners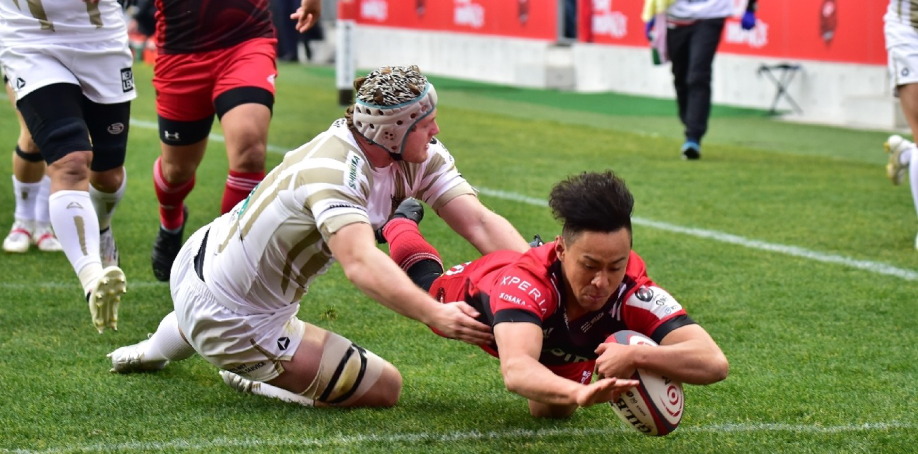 ABOUT THE TEAMS
The Hanazono Kintetsu Liners team was created in 1926, at the same time the Hanazono Rugby Stadium. It's a team with a long history in the Kansai area, with eight wins in national competitions.

The group NTT Docomo Red Hurricanes Osaka was established in 1993. They brought a new kind of excitement to the rugby world. You will be able to feel the powerful energy of the team from the bleachers!

Osaka is one of Japan's leading rugby cities and is known for its amazingly large number of junior/high school rugby players.
DID YOU KNOW?
Rugby is a game between two 15 player teams. The game is broken down into two 40 minute halves for a total of 80 minutes.
The basic goal of rugby is to move forward, aiming to get a player with the ball inside the other team's goal area to score. One of the highlights of the game is watching the players rush into one another and tackle during the scrum, when the two teams' eight forwards each try to gain possession of the ball.
A "try" is another exciting way of scoring points in rugby. A try is worth five points, and is scored when a player touches the ball inside the opposition's in-goal area.
HOW TO ENJOY
Get close to the action!
Rugby fans get to sit close to the action. The sounds of the players colliding into each other, and the speeding wind of the ball adds to the excitement of the game. Enjoy the electrifying atmosphere at a match near you.
Meet and Greets with the players
Not only can you watch the game at the stadium, you can get the chance to spend time with the star players of the team. It's a great time to chat with them, take pictures and interact with the team. Spending time with their fans gives the players a big energy boost!
Osaka's rugby culture
The Higashiosaka City Hanazono Rugby Stadium was created in 1929 as Japan's first rugby stadium. It finished renovation in September 2018, and is almost a sacred place to fans.
Chosen to be the stadium for the 2019 Rugby World Cup, it will be in the spotlight around the globe.
Rugby museum
The redesigned Hanazono Rugby Stadium has Japan's only rugby museum. It exhibits the history of the sport and the historic balls and jerseys of the players. Beginners can try a VR rugby simulation!
COSTS & ACCESS
Tickets

Top League Unreserved seating Regular/Adults: 2000 yen High School Students and under 700 yen.
Access

Rugby games can be watched at Kincho Stadium, Hanazono Rugby Stadium and Expo '70 Commemorative Stadium. For more details on pricing and tournament dates, please refer to the websites below.

OFFICIAL SITE:RED HURRICANES
OFFICIAL SITE:KINTETSU LINERS
※All listed fees are based off of 2018's prices. Prices as of 2019 are currently undecided.
Back